1. They wear suit on the campaign trail… probably a $10,000 one and never wear it EVER again. (Whew! Money well spent, huh?)
2. The "Corn-y" Mentality… They eat corn…freely…like some ill-mannered students..on the streets
3. They shove the "We are all the same" ideology down our throats..and then banish us to hell when elected.  Governor Oshiomhole to a market woman, "Go and die!"
4. They pick up Brooms & literally become our Janitors..to sweep the sky!!
5. They let us believe that "Power" actually belongs to us (the People)..
 Source: www.cnn.com
6. They become Visible and Audible
After elected, even if a whole city is massacred, they become deaf and dumb. Oh! They might ask the Governor of the affected state to visit them or send one of their Advisers to have a measly press release on their behalf.
7.

Fake

Public Display of affection with their spouses like never before
Seriously? (Eww!!)
8. They Literally get in bed with their opponents (See Love)
Although I think President Buhari's look reads, "I will bury you! You dumb piece of sh**"
While GEJ is trying to run for cover…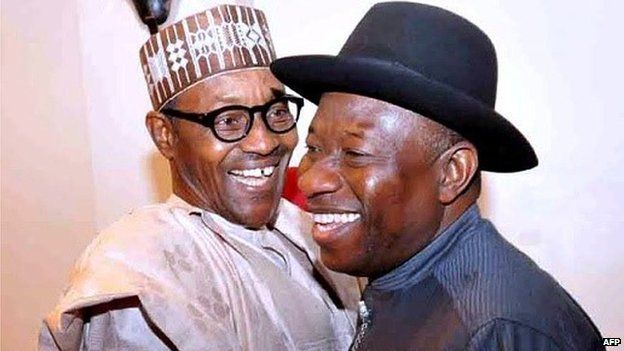 9. They share the funds (N23.9 billion) designated to improve Nigerian security…Yass! Our Dear Hero!!
Source: newspunch
10. They give us rice (Why always rice though when I love beans or pasta?)…
which means they know we are of course hungry. They however stop feeding us when they are elected. They even rip off the few grains we have stored for ourselves.
11. They Cook & Serve us
Maybe this was after Governor Fayemi was elected but can someone tell them that we need sustainable solutions not a few bread crumbs thrown our way now and then.
Who am I kidding? They must get off on seeing us spread our hungry hands to be fed like the beggars that we are.
12. They "kind of" go to church or at least chase after big pastors for their congregation 
or whatever silly reasons they deem fit
13. This picture shows that they actually know what Nigerians need.. Compare this situation to now, when the only people who address us are his Special Advisers. Our own President has become too busy for us.
14. Healthcare? Seriously?? Someone pinch me now because they seem to promise what they do not understand.
15. And we all are familiar with these memes 
which is sadly the situation we find ourselves in every time
16. In this picture, we all know who the Zebra and the Lion represent in Nigeria's Political environment
The sad thing is that History will always repeat itself again, and again and again! It is just a vicious cycle and Nigerians just seem to Never Learn! Why do we have the need to trust these leaders, even though our Trust has got us nothing but hell since?
My advice; stop defending anyone of them. Demand that they give us account of their activities while in public office after all, they are sworn to serve us not the other way around. It is our right! Let us take back the power from these unqualified and greedy leaders!